First generation Yamaha YBR125G is termed as the best motorcycle Yamaha has ever produced in Pakistan till date. The users call it the Best Yamaha YBR125G and here is why.
Premium Quality: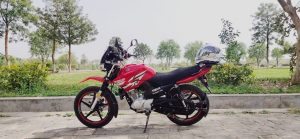 Back in 2015, Yamaha told Pakistanis that what is a premium motorcycle. The top notch build quality made it an instant hit.
Low Noise Emissions:
Due to low noise emissions, First generation Yamaha YBRG was loved by mature travelers .
Start of new culture:
We need to give this credit to Yamaha that they created a culture of touring,people started to modify their bikes with purpose built accessories.
Verdict:
The machine may have many pros and con's but it was of great quality.The motorcycle featured belongs to Mr.Ahrar Husain from Islamabad.