Yamaha YBR125G Quality Comparison
6 years ago if you had walked in a Yamaha Dealership in Pakistan, you would have been welcomed by the showroom owner saying that this is Yamaha YBR125G. Yamaha's latest offering for Pakistan, this is a TRAIL sir, one of a kind, look at the front fender, look at the dual purpose tires, check out the fork boots just like a TRAIL but in reality it isn't. It is a CROSS OVER which was a new thing in Pakistan and even to this date this is the only available 125cc CROSS OVER Motorcycle.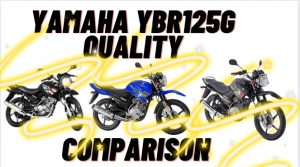 The CROSS OVER is a machine which can do both things, simply saying it can do On road and Off road both but it doesn't mean that it will do both of them good. Usually one or the other is compromised. The YBR125G has 3rd generation now on sale in Pakistan and we are going to compare them against each other on quality and NVH (noise vibration and harshness) levels. We will also see how much they have improved and where do they stand currently.
1st Generation YBR125G: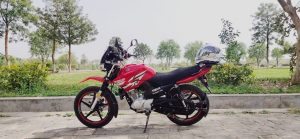 In 2015 16 YBR125G was available in Pakistan as a CKD unit, which meant that it was completely knocked down when imported to Pakistan, it was assembled here and then sold. People loved the quality on this machine. It was new and macho bike available for just under 135k new.
How it was actually: If Quality is compared than it was way ahead of its rivals. It's safe to say that Yamaha actually brought competition in 125cc class. Honda has launched so many variants after Yamaha is back in Pakistan. The low emission exhaust was loved by the mature riders and hated by the young guns. Vibrations were very controlled due to engine balancer and harshness was also in check due to good quality tires, good suspension and rider's triangle. The NVH (Noise Vibrations Harshness) levels for the YBR125G were in check. But it lacked power and grunt. It was not happy going past 100 kmph and for a bike that looks macho not beating the CG125 was a big disappointment.
2nd Generation YBR125G:
In 2018 YBR125G was launched in Pakistan, it was still more of a CKD but many things had been localized by that time to keep the costs down. The machine was more or less same but had few major upgrades. First of all a new color, Racing Blue was launched with more colorful graphics. Mechanically it received a free flow exhaust, an up jetted carburetor and a much better breathable air filter. These upgrades gave it a little punch and it was faster, much faster than its 1st Generation variant. Also it had some sound as well which was another plus. All other things were the same except the NVH levels. The noise had increased and free flow exhaust made slight vibrations on higher revs. The harshness was still in check somehow. The critics were of the view that quality had gone down and price had increased a bit and they were right. It had happened, people compared it with the 1st generation and there was difference in chrome quality, indicators, speedometer, levers and headlight quality.
3rd Generation YBR125G:
Launched in the end of 2019, YBR125G's 3rd generation was a visual upgrade. It had new graphics and they looked good to be honest. Bike looked like more off road oriented. On the other hand it was same as 2nd generation with even more localized parts. Motorcycle critics were of the view that now quality is even more degraded. Plus some people shared ripped off paint from fuel tanks and rusted chrome parts. The price was significantly higher now and motorcycle felt overpriced.
Current Scenario:
Nowadays YBR125G is just a lil shy of 200k, for a machine which was launched with imported parts in 2016 was less expensive than of a more local variant. Initially it was blamed on increasing dollar rates but prices never came down when the dollar prices dropped. This was the detailed story of all generation of Yamaha YBR125G. Now the million dollar question is it worth to buy and is it still premium in its segment? I would say a yes to these both questions because inflation has caused everything to go beyond their prices, secondly the best competition of YBR125G is Honda CB125F and YBR125G is way better in comfort, ride quality, parts accessibility and resale value than of the CB125F.
On the other hand people are expecting a better and powerful machine from Yamaha, lets hope it comes soon.
GODSPEED