Best Cheap 125cc motorcycles for Students in Pakistan
Today we will discuss the best cheap motorcycles options in Pakistan because when i was a student I wanted a motorcycle which should be best cheap and easy to maintain but  in Pakistan every thing for a student is directly or indirectly related with the grades he gets, if Ali gets A grade he will get a Laptop, If he gets A+ than he can qualify for a two wheeler.  I received my Honda CD 70 after getting first division in graduation!
Now coming back to the topic, the generation now has outgrown smaller engine capacity motorcycles and they want something powerful and fast now. These motorcycles are expensive new but can be sourced in the budget of 80 to 100k easily.So lets dive right in.
Best Cheap Motorcycles, Ravi Piaggio Storm 125:
The least preferred motorcycle on this list is Ravi Piaggio storm 125, alot of young kids may not remember it because it was discontinued in 2015 but this motorcycle has big bike looks and also feels like a bigger motorcycle while riding. The onlookers also get the impression that something big n cool is coming! Though the parts of Storm 125 can be a pain to source but in big cities like Lahore they can easily be sourced and are relatively affordable than modern day motorcycles.Features wise Ravi Piaggio Storm is loaded with features like modern day motorcycles.Its rated at number three in the list of best cheap motorcycles.
CG125 DREAM: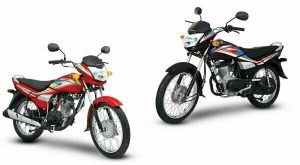 CG125 Dream is little brother of CG125 but he is not as charismatic as the audience wanted it to be,CG125 Dream was a much modern looking motorcycle and had good looks to it. This motorcycle used frame and engine of CG125 with modern styling and plastic fenders but the general perception built around this motorcycle didn't let it sell very much and this too is discontinued lately.Even though the front suspension of CG125 Dream is much better as compared to regular CG125 (because it was used from a Pridor)CG125Dream had great pickup and top speed is always there.I rate it second on the list of best cheap motorcycles.
CG125 DELUXE: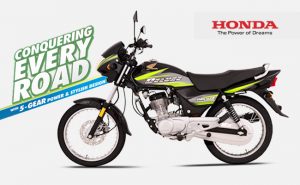 If I had to buy a motorcycle for myself, I would go for CG125 Deluxe. This was the deal breaker when launched in 2005/6 and had looks which were never seen here before. People misjudged it for some sports bike and liked it looks but not many of them bought these.
Read More: How to stop your motorcycle effectively from high speeds
This motorcycle has the most features of this combination after Ravi Piaggio like hydraulic brake, exceptional front suspension , fuel gauge and 5 gears. I rate it the best cheap used motorcycle.
All of these motorcycles are not in production today and that makes it easy to source these on the second hand market.Finding one is no issue thanks to the used vehicle websites and face book market place. These motorcycles can easily be modified into good looking and cool motorcycles.
If i had a budget of 80k and I was in college, i would pick one of these n enjoy my ride to college!