Yamaha YB125 Z is Yamaha's try to capture 125cc commuter segment. The ongoing & growing 125cc motorcycle market is a hot place now a days. With more & more people upgrading to 125cc class, Yamaha wants the most of it.  Yamaha launched YB125Z in April 2017 and now it having an upgrade or remake. This is YB125Z in its 2020 avatar. Let's find out what's new in this YB125Z.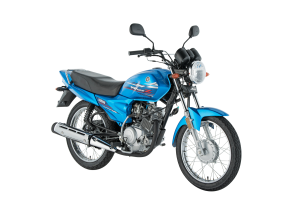 YB125Z gets a new set of graphics, this graphic looks more cooler than the previous ones. Yamaha emblem from the tank is replaced with tuning forks. In price driven Pakistani market where customers don't bother about quality and focus more on a cheap product (monetary benefits). Still there are many people who want a premium 125cc motorcycle with new features & style.
Subscribe to my YouTube Channel
But there was something which was keeping many people away from YB125Z and that was the gear shift pattern but now this is not the case. This YB125Z has traditional gear shift pattern. Though I am not fan of this but now YB125Z has all the pros of becoming a n executive cruiser. Not to mention YB125Z makes 52% of Yamaha motorcycles sold per annum in Pakistan. Even with high end pricing & still standing side by side with other 125 cc motorcycles, YB125Z is considered to be a trendsetter in 125cc segment.
This is the 2nd face lift of YB125Z, earlier it got a regular graphic change along addition of a new color which Yamaha called AN ALL NEW METALLIC BLUE COLOR along with new gold highlighted graphics, this time YB125Z gets a gear shift pattern and new graphic update. Other than that, the motorcycle is fairly straight and simple.
This 125cc motorcycle weighs 107 kgs & pumps out 10.05 PS of power. YB125Z comes equipped with an electric starter & a kick starter. The 12v battery ensures that the easy electric startups always come in handy. Also, the electrical are DC CDI which means that they are directly operated by the battery and have very good illumination, Headlamp comes with a parking lamp and a 35 watts Halogen Bulb which has brightest illumination. The pickup is adequate due to good weight distribution and motorcycle feels nice to ride. The ride is very smooth as this OHC engine loves to be revved and it comes with a dedicated counter rotating balancing shaft which helps in keeping the vibrations almost to nil. The gearbox is sleek and crisp while the clutch feels lighter.
The fuel tank feels solid & gives a big bike feel. Speaking of big, it can hold up to 13 Liters of fuel and it has largest in class fuel tank capacity. It also comes equipped with a fuel gauge in the speedometer. The speedometer comes with an all analogue speedometer with a trip meter. The breaking duties are performed by drum breaks which are adequate to stop this machine. Due to its suitable body size its easy to maneuver this motorcycle in rural & urban riding conditions. Its telescopic front forks & 5 steps adjustable rear suspension makes sure that your ride is smooth & bumps are soaked up nicely. The 2.75 / 18 section front & 90/90 section rear tires provide good road grip & maintain a good contact with the tarmac. Overall this motorcycle returns the mileage of min 48 to max 52 kmpl in proper maintained conditions.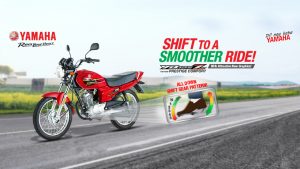 Yamaha has developed a well put together motorcycle which has been in use of many Pakistani riders since last year. This commuter motorcycle has received a warm response overall. Yamaha offers not only the product, they offer customer friendly aftersales services along with 01 year or 12,000 KMS warranty. They have also extended the engine warranty up to 30,000 kms or 3 years. Yamaha has an improved after sale services network now. This bike is priced @ 136500 and its readily available @ your nearest Yamaha showrooms.