Scooty Girls from Rawalpindi Pakistan
Lets face the fact, we are living in a conservative society.Women driving has now got some respect but still people do make fun of them. Most people think that females are not as good drivers as men but the thing is according to some stats female drivers are less likely to be involved in traffic accidents and they are known for less traffic violations. Today a friend of mine introduced me to scooty girls on one of my blogs which was about scooters and scooties being associated to Ladies and what a find!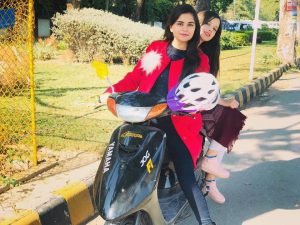 Ifrah Huussain and Sana Shakoor are too young and dynamic girls from Rawalpindi which can be seen riding a scooty for their daily commutes.I was also shocked when I heard about them first but after some research I came to know that they started using Scooty to make their travel to university more easy and independent.
I know that when a female is studying or working , she requires help from their brother, father or husband to pick and drop them to their destination but this idea of getting an independent vehicle and commuting on your own is new for Pakistan , that too a 2-wheeler.In other countries , its very common of Ladies riding bikes and scooties but now I see some energetic ladies doing the same in Pakistan.
The best thing is their scooty, They use a 49 cc scooty which has a small petrol engine and it is automatic too. Because its just 49 cc it does not even require registration. Its a wisely chosen vehicle as its hassle free.
Scooty Girls also have their You tube channel and Facebook page where they update their vlogs. Link to their You Tube channel and Facebook page is also mentioned.Make sure you guys check it out and I will also try to interview these ladies if they're up for it.
https://web.facebook.com/scootygirlsofpakistan/
https://www.youtube.com/channel/UCtYdgPkTeZ9SFLKbq4vQccQ
More speed to you girls! Ride safe and ride long!