Usman Ghani – Only FIM Licensed Pakistani Racing Coach
Before anything i share about Usman I owe him an appology, I should have written about him way before but I was caught up in few other things still I was following him and regularly visiting his social media fan page just to check what our champ is doing!
Usman Ghani is an instructor and riding coach who aims to attract more Pakistani individuals and develop Motorsports across Pakistan. Usman Ghani is the first Pakistani with a Fédération Internationale de Motocyclisme (FIM) license. He is first-ever Pakistani to strike back to back podium finishes in the SuperStock Championship with MotoTech Yamaha R6.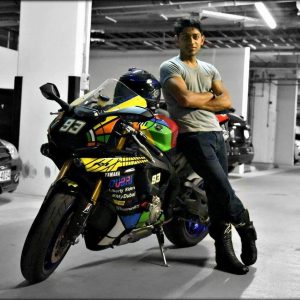 In an interview Usman shared that his father and elder brother are motor heads and they inspired him to achieve his passion, Growing in such a supportive enviornment and living next to race track is what made Usman's passion grow even more.He would spend his time watching races on line and dreaming to make it big one day. Guess what Usman, You did it!

Usman also shared that once he met an accident while riding on road and injured himself, since that day Usman dedicated himself for track riding only because you are more safe at track and at the same time you can experience the real joy of riding. Usman usually pilots a Yamaha R6. Usman responded to a question about number of races he has done by saying, This is my 3rd Racing Season, in my first season, I had crashed on the opening weekend which caused a severe injury in my left knee and I couldn't ride a bike for a whole year, therefore missing out. In my 2nd season, I finished P4 overall in the championship after some really tough races but a big learning curve and now in the on-going season, we got back to back podiums in the previous race weekend and currently in P3 overall in the championship.
Usman wishes to bring motorsports to Pakistan and we are waiting for this too!
GODSPEED Usman