Two must have things for ride in rain
As much as bikers love to ride in rain we must admit that its not easy, the blurry vision and soaking clothes make it difficult to ride and if you ever encounter such a situation, Make sure you have these two must have things for ride in rain. In fact you should keep those permanently in your bag pack.
Rain Coat: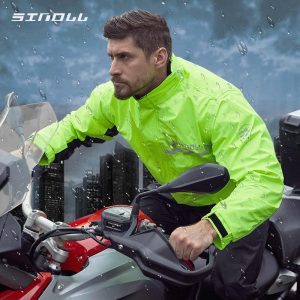 Nothing bothers like wet clothes and if a rider is wearing a protective rain coat, his clothes will be dry (mostly). Proper rain gear consists of water proof jackets and trousers which keep you out of wet clothes. One must select bright colored rain gear because incase of rain the vision gets blurry mostly and having a reflective bright colored rain gear makes you prominent on the road.
Boot Gaiters:

Boot Gaiters are like rain coat for your shoes, Warm and dry feet keep you out of danger(Catching Cold & Having Flu)Also on a tour the riders usually keep less clothes so it will also help in being at peace while you ride in rain!