SUZUKI GS150SE or HONDA CB150F
One of the most commonly asked question to any moto vlogger is which motorcycle to buy and in the line of 150cc motorcycles most asked question is Which Motorcycle to buy for yours & commuting in 2021, either GS150 or CB150F. Lets look in detail.
Subscribe to my YouTube Channel
SUZUKI GS 150 SE: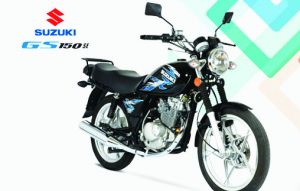 It is the most powerful 150cc motorcycle locally made in Pakistan, No doubt about that but apart from this quality its overall quality is very low, by low I really mean low and poor.
Suzuki GS150SE has poor paint and chrome quality, the electronics are also poor and wiring issue is very common in this machine. Even though it gets alloys and disc at front but the disc size is very small as compared to what HONDA is offering in its CB150F.GS150 SE has no modern feature like fuel gauge, gear indicator, and much more. Its a plain old motorcycle.
HONDA CB150F:

HONDA CB150F is only new motorcycle from HONDA for Pakistan, Back in the day when it was launched it was a revolution and seemed a big leap from the typical HONDA motorcycles. CB150F has little less power as compared to GS150 but it is so complete in features that If someone asks me, It is gonna be my ultimate Choice between these two motorcycles.
Conclusion:
If one only needs power and can live with Flaws He is good to go with GS150 but if you're looking for a proper machine, CB150F is the one to opt for.