Suzuki GR150 or Suzuki GSX125, Which one to buy?
Pak Suzuki is known for its leasing and installment schedule plans for its motorcycles. The reason being is that the high prices do not help with the cash / instant sales and customers go for leasing options. The Suzuki Installment schedule plans are applicable across Pakistan on company operated Suzuki showrooms across the country. Now Suzuki has 125 & 150cc motorcycle options, people are comparing Suzuki GR15O & Suzuki GSX125. Lets open it and find which is the better motorcycle to buy.
Suzuki GR150 & Suzuki GSX125 Price Difference:
Initially when GSX125 was launched, the price difference among these motorcycles was only 6,000 rupees. On 1st November, Suzuki increased its motorcycle prices and GR150 is now priced at 385,000 rupees while GSX125 is for 359,000 rupees. This 26,000 rupees difference creates a definite impact on the mind of buyer. This difference will help in encouraging GSX125. The differences between Suzuki GR150 & Suzuki GSX125 are rather interesting.
You may also like to read: Suzuki GSX125 or Honda CB150F
Subscribe to my YouTube Channel
Suzuki GR150 & Suzuki GSX125 Specs Difference:
Suzuki GR150 is definitely bigger motorcycle with incredible riding comfort to offer. The motorcycle has a really good stance, which helps in a smooth and planted ride. The riding posture is more inclined towards smooth and comfortable riding posture. Motorcycle has basic generic specs (self starter, 5 speed gear box, OHC engine and much more).
Suzuki GSX125 is the new entrant with more specs on board. The GSX125 offers a sporty riding stance due to its raised aluminum handle bars and slightly rear set foot pegs. The upswept exhaust also adds to the sportiness of the motorcycle. Mechanically the motorcycle is same as compared to Suzuki GR150 (OHC engine, 5 speed gear box and self starter etc.)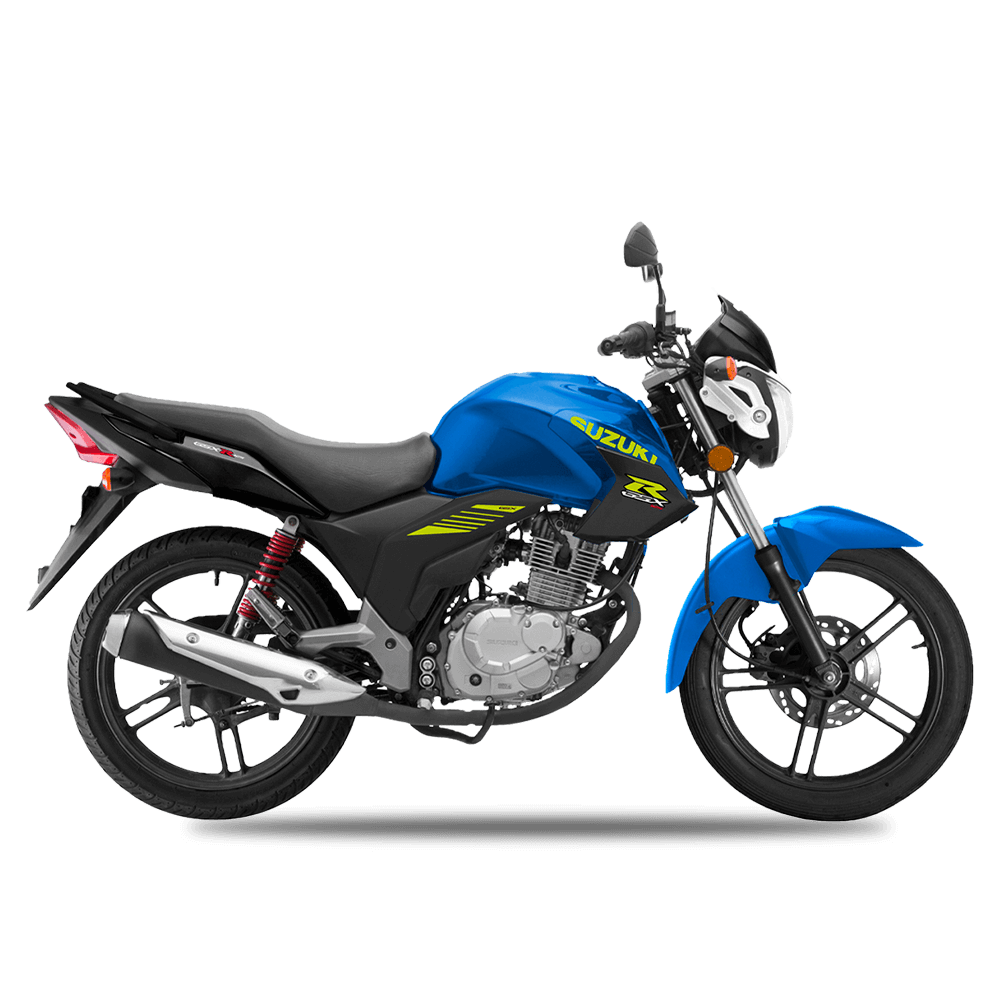 Suzuki GR150 & Suzuki GSX125 Features Difference:
Features wise Suzuki GR150 is slightly dated now, the GSX125 is more modern and has more features on board. To start with, GSX125 has halogen head lamp, sporty fuel tank and much more sporty elements to offer while the GR150 is more towards relaxed and comfortable riding posture. The differences between Suzuki GR150 & Suzuki GSX125 are rather interesting.
Suzuki GR150 & Suzuki GSX125 Maintenance:
Ironically, Suzuki has failed to develop a long and sustaining after sale service network. Most Suzuki users are seen complaining about the lack of expert mechanics, lack and expensive spare parts. Though Suzuki is popular for its use in touring, the motorcycles face maintenance issues. This issue will remain with GSX125 as well.
Suzuki GR150 & Suzuki GSX125 Fuel Efficiency:
Its too early to compare these two motorcycles here because GSX125 has not been extensively ridden yet. The GR150 is known to deliver around 40+ kmpl but we yet have to fid about the GSX125. Though GSX125 will be more fuel efficient because it is using SEP SUZUKI ECO PERFORMANCE which is aimed to deliver more kilometers per litre. Lets see what mileage it returns.
Which One to buy:
Price aside, Suzuki GR150 has to be choice for motorcycle travelers around Pakistan. The GSX125 is inclined towards more sporty riders who are looking to enjoy a small sporty motorcycle. Rest its all about affordability!