Suzuki going to launch an Electric scooter soon!
You heard it right, Suzuki is going to launch electric scooters soon but in India, not in Pakistan. Still, if the launch of an electric scooter brings joy to you, let us share some more details on this. Probably this is for the first time that a Japanese manufacturer is stepping into the EV market in Asia.
Suzuki Burgman is a popular maxi scooter across the globe. In India, it is also popular among many. People there use scooters due to their versatility and they are not gender conscious like us. The Burgman originally has a gasoline-powered engine but its electric version is being spied on Indian roads. Globally the Suzuki E-Burgman is getting noticed and it is in an advanced development phase in Japan.
E-Burgman has many cards to play with but its trump card is the swappable and shareable battery pack. Suzuki is working on developing easily swappable battery packs within seconds so the consumer experience is always on top. Suzuki is not alone in this process they are working with Gachaco who are experts in battery-sharing mechanisms. Field tests are beginning in April till June 2023 and 8 E-Burgman scooters are being tested.
Technically, these Suzuki E-Burhman scooters come with a 4kw motor which is powered by Lithium-ion batteries. The motors also seem to be hub motors. The quality however is premium and top-notch if it is compared with other Chinese scooters on the market.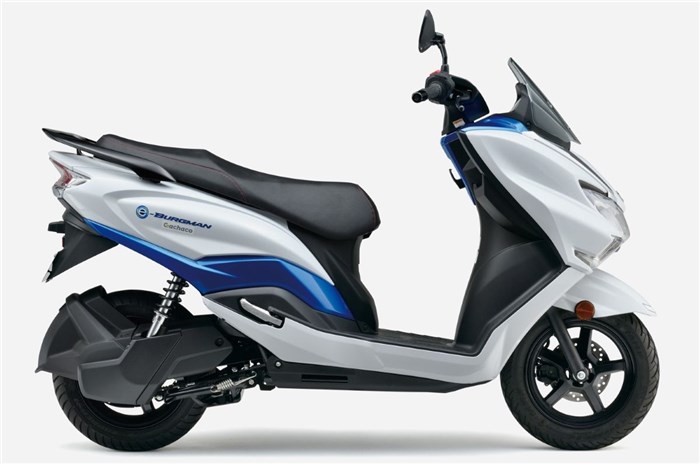 Scooters are a huge success in India and many people use them over motorcycles. They are lightweight, easy to handle, and have huge space to carry necessities easily. Electric scooters are also quite popular and there are many companies like Arther, Ola, and many more. Suzuki E-Burgman will definitely make a positive impact on this segment and hopefully one day it will come to Pakistan too. Meanwhile, we are hoping to get cheaper petrol somehow.