Suzuki Gd110S Hit or Miss?
Pak Suzuki introduced Suzuki GD110 a long time back. In start it was introduced as Suzuki GD110HU.
It was a basic commuter motorcycle with classic styling and priced higher than Suzuki GS150 back than. Later after the years Suzuki upgraded it to GD110S with new styling, alloy wheels and self starter. Let's find out if Suzuki GD110S hit or miss!
Suzuki gd110S price in Pakistan:
The Suzuki GD110 originates from Thailand and Malaysia. It's popular machine over there. In Pakistan, Suzuki GD110 is priced at 230,000 rupees which is a lot higher for this category of motorcycle.
You may also like to read: Honda Cg125 2023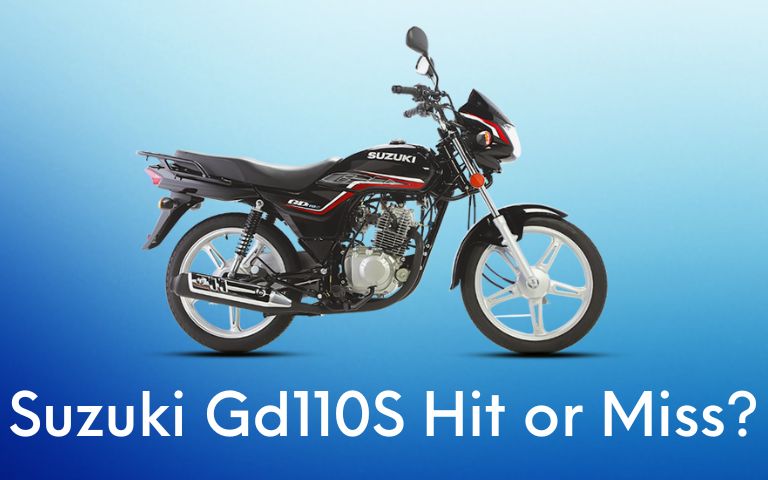 Suzuki Gd110S Specs in Pakistan:
Suzuki Gd110 consists of a 110cc single cylinder Sohc engine with a 4 speed gear box. The motorcycle comes with a very refined engine which is not much on power but refinement is at its peak. Suspension wise this motorcycle is also very good. The smooth suspension soaks bumps nicely and 17 inch tyres are adequate to handle this compact motorcycle.
Suzuki Gd110S features in Pakistan:
The Suzuki GD110 is not a feature packed machine. Infact it has lack of features to offer. Gd110S does not have disc setup, it does not have rpm, fuel gauge and many other features which are basic offerings. It's rear suspension is adjustable and that's about it. Nothing much to offer.
hit or miss?
Well Suzuki Gd110 is no doubt a better motorcycle than other 100 and 125cc in terms of ride quality and comfort.The current price of this motorcycle is very steep as compared to it's rivals and make it an expensive motorcycle to own . The only reason it is still in business is a zero markup installment plan from Suzuki itself. If I had to say a one liner, Suzuki GD110s ride is a hit but it's price is a miss!