Riding gear is the only fashion which could never go out of style no matter what season or weather it may be. The riding gear is always trendy , it not only makes you look cool but safe as well.Usually more people are wearing riding gears in winter because they also keep em warm but when it comes to summer, a lot of riders transform into squids.A squid is some one who is riding motorcycle with no safety at all. They are the black sheep of community and give motorcycling a bad name!!

A riding jacket is most important of all the riding gear after helmet as it is covering the upper body and many vital organs so having a good riding jacket is a must. Now a days one can get mesh riding jacket which is breathable and have vents for air passages.Also their are safety pads which can be attached or removed. Riding jacket in summer may seem like an odd thing but it helps in many ways.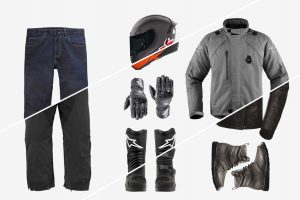 After the riding jacket, a good pair of denims is a must and usually every rider have these things laying around with him. However having a good pair of gloves with breathable material and Kevlar protection are also necessary. The breathable construction means the air passage will help you cool down and you will be riding more safe with your riding gear on!
Not to mention always have your helmet on and try to obey the laws, thats what separates us from squids!