Karvaan MPV Plus launched with a new & luxury interior
When it comes to people carriers and multi-purpose vehicles, Suzuki Bolan was the ultimate option for a long time. Its monopoly was slowly challenged by the imported 660cc KEI Vans from Japan like Suzuki Every and others. In 2017, A Chinese manufacturer FAW launched its people carrier van under the brand name XPV. They were followed by CHANGAN with a better vehicle the Karvaan MPV. The CHANGAN Karvaan MPV now gets a new interior. Here is what we know so far.
The Karvaan MPV is a versatile and spacious multi-purpose vehicle that has gained popularity in recent years. Designed to accommodate large families or groups, the Karvaan MPV offers a comfortable and convenient mode of transportation for both short trips and long journeys. The Karvaan MPV is a much better vehicle as compared to the Bolan and XPV. Later down the years, a new variant Karvaan MPV PLUS was launched with power steering and power windows as options.
One of the standout features of the Karvaan MPV is its generous interior space. With three rows of seating, it can comfortably accommodate up to eight passengers, making it an ideal choice for families or even commercial use. The seats are well-cushioned and provide ample legroom, ensuring a comfortable ride for everyone on board. Additionally, the MPV offers sufficient cargo space, allowing for easy storage of luggage or other bulky items. Now the Karvaan MPV PLUS is available with a beige interior. CHANGAN has launched this variant as a facelift in Karvaan MPV PLUS.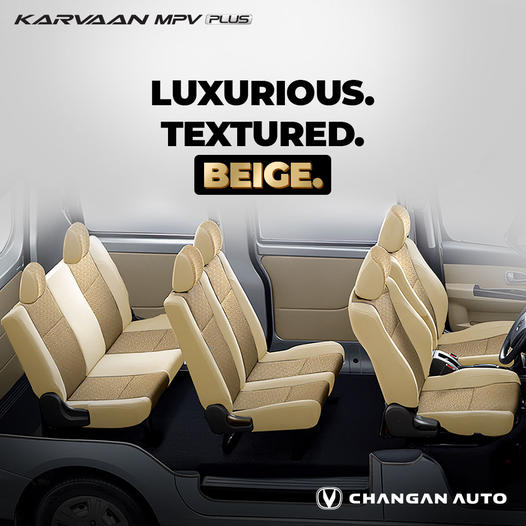 In terms of performance, the Karvaan MPV boasts a reliable and efficient engine. It is equipped with a powerful yet fuel-efficient motor, ensuring a smooth and economical ride. The exterior design of the Karvaan MPV is both stylish and practical. It features a sleek and modern look, with well-defined lines and attractive contours. The large windows and windshield provide excellent visibility, while the high ground clearance enables the vehicle to tackle various road conditions with ease. Though it's a van it is better than BOLAN or others.
Bike walon k liay sasta petrol aye ga?
Overall, the Karvaan MPV is a reliable, spacious, and feature-packed vehicle that caters to the needs of large families or groups. With its comfortable seating, ample storage space, and advanced features, it offers a delightful travel experience for both short trips and long journeys.