Horsepower Pakistan Riding Gloves
Horsepower Pakistan has launched their first collection of proper branded riding gloves yesterday. These gloves are available online and hopefully be available on good motorcycle shops near you very soon. Lets dive into these gloves and see what do they offer.

Horsepower Pakistan riding gloves are made in Pakistan & are very affordable and valuable product. Such gloves are exported out of Pakistan and tagged by bigger brands, also they're very comfortable and easy to wear.
Horsepower Pakistan riding gloves have very good construction , first of all they are coming with Mobile compatible index finger, they have gel padding on palm and the grip is made up of gorilla grip material for extra precision.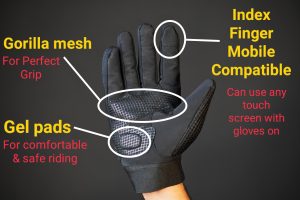 Horsepower Pakistan riding gloves have protection for knuckles and available in Red, Blue & Yellow highlights.
These gloves are not water proof but they are to be used all season for regular riding.
They are priced at 950 pkr only and they're going to be worth any penny.