Driving License and Road Accidents in Pakistan
The accident ratio is increasing in Pakistan and everyday we see motorcyclists involved in different accidents on our way to office,university or home. Most accidents involve underage drivers who are not aware of traffic laws and can't hold their nerves in a tensed situation.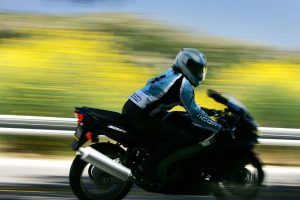 According to a survey only 65% of motorcyclists in Pakistan have a valid driving license but still their are many who don't have. A large number of those are under 21 years and they're more likely to be involved in accidents.
The situation of 65% who have driving license is also not very good because a large number of them have gained licenses using unfair means.People here don't like to stand in lines and spend time according to the law. Also many people are reported to bribe the officers and avoid practical driving tests.
Because of these reasons people are not aware of traffic regulations,they switch lanes and have no ideas about over taking or merging in lanes.Not to mention people also don't wear helmet and the vehicle is also not properly maintained.
Lets be honest,one has to know the value of life and thats the only way to make a sensible rider who follows traffic rules and rides safely.