Where is Hi Speed Freedom 200
Hi Speed is a local motorcycle assembling company from Pakistan and their brand Freedom is probably Pakistan's only available cruiser bike. Freedom is a Chinese descendent cruiser with 200 cc single cylinder over head cam based motorcycle but if failed to make a cut it deserved.There must be some reason for it. Let's find out.
The freedom is aimed at a niche, a very thin segment which loves to cruise and looking for a different motorcycle. The cruiser has a low seat height and a relaxed riding posture but in our country people are not used to the concept of Special bike for special purpose. That's one of main reasons Freedom isn't as popular as it should.
Freedom is a Chinese motorcycle which is imported as a CBU Completely Built Unit. The parts and accessories also need to be imported along with it as they're not locally developed or assembled. The suppliers also tend to import less units hence the parts are also scarce. This is also a down side.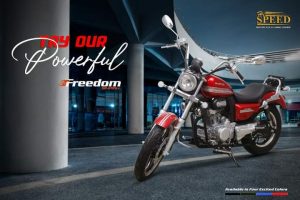 On top of all, Hi Speed Motorcycles did not put enough effort to promote their brand, in eyes of many motorcycles critics freedom had many good things to it but the poor after sales and marketing didn't help it to become Pakistan's popular cruiser.