Honda Motorcycle at 0% Mark-up for up to 24 months
Honda Motorcycles are now available for purchase on flexible payment plans with no markup for up to 24 months. Atlas Honda Motorcycles has partnered with Silk Bank to offer this low-cost instalment plan.
Silk Bank credit card customers can get any Honda Motorcycle for a 0% mark-up for up to 24 months if they use the instalment plan. Although there are some terms and conditions specified, the bank can expand on them.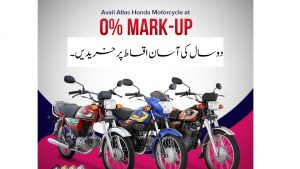 Because of rising inflation and price increases, most people's purchasing power has decreased. As a result, people are turning to old secondhand motorcycles or Chinese motorcycles.
In such a case, this payment plan makes it simple for the average Pakistani to acquire  and maintain a good motorcycle.