Give eidi to your motorcycle too
Almost 70 percent of the motorcyclists are above the age of getting eidi ( elders give money to children as token of love and appreciation on eid days) but we certainly give eidi to others. Like wise our trusted old motorcycle can use some eidi and it will help in performing better and many more happy trips and tours.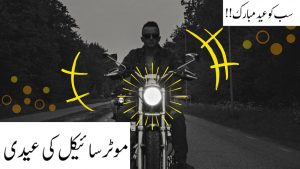 Give It a good service, Nothing keeps a motorcycle happy than a great service and tune up. The motorcycle engine remains trouble free and peppy. Change the engine oil, oil and air filters, get a new spark plug to keep the sparks high and get overall servicing done to keep your motorcycle in high spirits.
Get new tyres if needed, Motorcycle tyres are usually ignored to be replaced until and unless they puncture too much. Getting some new rubber will keep it safe and secure to ride your motorcycle.
Get a new battery, Usually battery change is also ignored and all electricals are used on the power of magneto flywheel. This can be dangerous and should be replaced with the battery.
Give it a good clean, Nothing beats a squeaky clean motorcycle and I guess keeping your bike clean really makes you happy.
These were the few things I could think of as Eidi to our motorcycles. Keep adding your eidi to your motorcycle in the comments below.