EVEE C1 Electric Scooter Ride n Review
Lahore Pakistan-based start-up, Evee Electric has successfully launched its 1st product the C1. On Sunday,12th March 2023 their scooter was available for a test ride. The scooter was ridden and reviewed, here are our 1st impressions about the C1.
EVEE C1, The Looks:
Looks wise C1 is impressive and unlike other scooters currently available. The front has a bright all-led headlamp with a parking lamp and indicators. A daytime running light is also available separately. The front fascia is unique and composed. The side profile is also sleek. C1 is very neatly assembled and nicely finished. The lines are proper and flush. The back end is also clean looking. Though the backrest is robbing its looks but still its acceptable.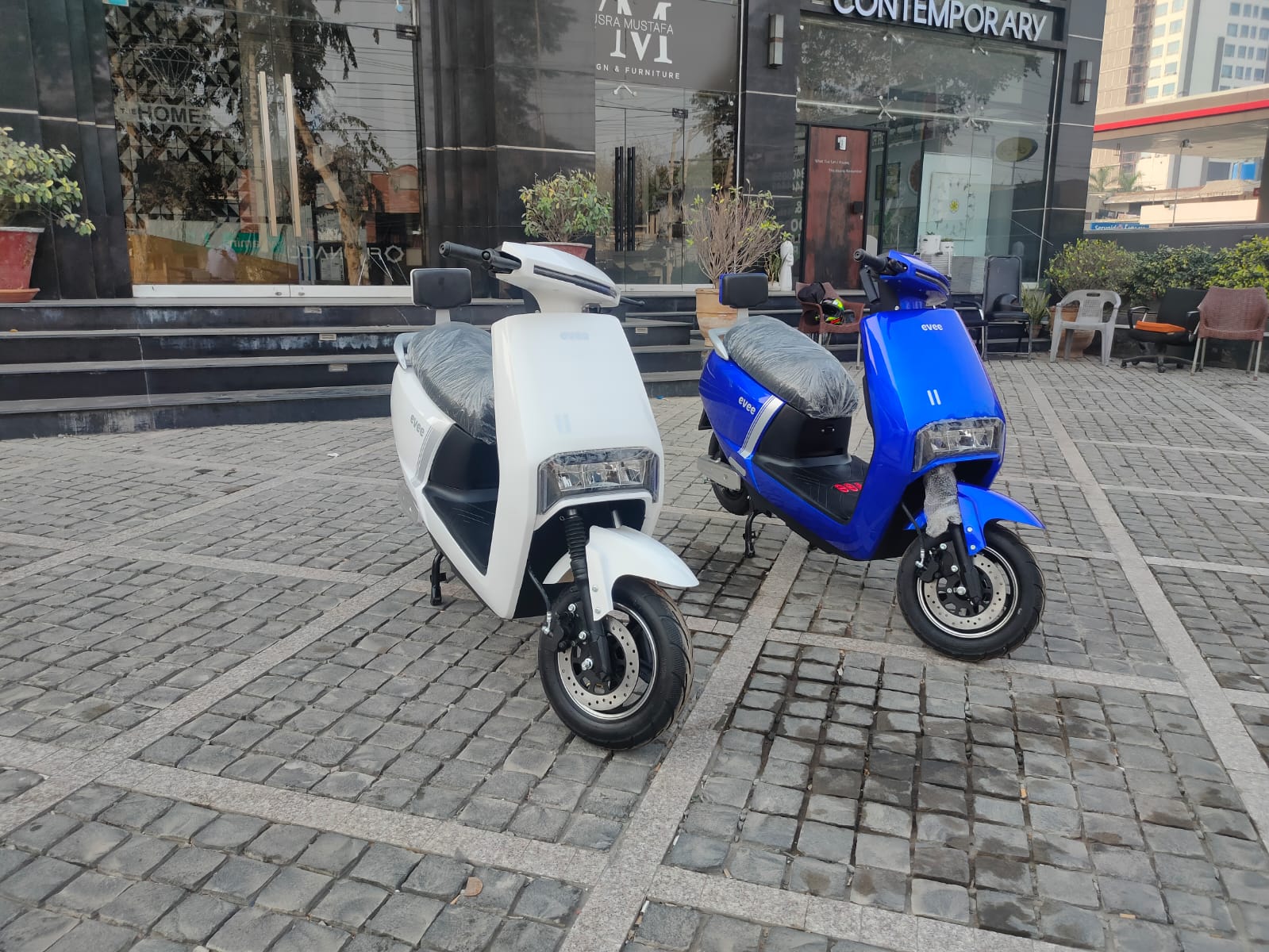 The Specs:
Specs-wise, the C1 has a 1200 watts bldc hub motor. The motor is powered by battery packs which are placed in the chassis (below the seat and floorboards) The battery packs are dry lead acid batteries which are a bit off. The dry batteries are not as capable as lithium-ion batteries and they also heat up. Other than that the specs are good enough. The scooter has 3 different riding mods with different power and range outputs. The instrumental cluster is all digital, and the switches and assemblies were also neatly finished. Over all the specs are impressive on the C1.
The Features:
Features-wise, the C1 is a versatile scooter. It is designed with utility in mind. The C1 comes with a reverse gear (a built-in button that helps female riders) On the front it gets the telescopic front forks with a dual-piston caliper disc set up (which is overkill)Other than that it has cubby spaces but they are not very safe (open pockets). C1 also comes with a USB charger and a safety alarm system.
Evee C1,The Price:
Initially, C1 was offered on booking for 175,000 rupees. According to the company, 500 C1 scooters were booked and deliveries will start on 20th March 2023. Now the new price is 185,000 rupees. The C1 is a CKD scooter and the company is planning to localize up to 30% soon. The company is optimistic to become 100% localized by the end of next year.
The C1 is an impressive machine, the paint quality and finish were up to the mark. The downside, however, is the lead acid batteries but at this price point, C1 is a good opportunity to be your first EV Scooter! For more details you can contact them here.