3 Reasons to love Suzuki GD110S
Launched back in 2014/2015 the Suzuki GD 110 (HU) was priced slightly closer to Suzuki GS150 and at that time it was very difficult for me to understand that why someone will pay more to get a less powerful motorcycle but all it took was just one ride and every thing was cleared. Suzuki GD110 may have many reasons to be loved but we are sharing top 3 today.
Suzuki GD110S is one of the best put together Suzuki Motorcycles. With its CBU(Completely Built Unit) heritage to CKD(Completely Knocked Down) route and now getting some parts locally still the GD110 has maintained its quality and the motorcycle has been upgraded once. The original variant was GD110 HU (a different head light, no self starter and alloy wheels) and now its upgraded to GD110S.
The Suzuki GD110S has a superb ride quality and comfort level, it almost seems like corolla type ride in a motorcycle. The bike has adjustable rear suspension with comfortable eat and up right sitting posture. The ride quality is way superior than any other locally available motorcycle in this commuter motorcycle category (100 to 125cc).Also it uses a balancer shaft based OHC engine which irons out any vibrations from the engine.
The fuel efficiency of this motorcycle is also superb, many easy riders have claimed mileage as good as 55 kmpl which may seem a far car but it is achievable due to light weight of bike, CV Carb and a fuel efficient engine. If kept in economy zone, it yields way better fuel efficiency than its rivals.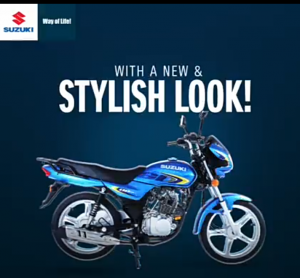 The motorcycle may have many positive aspects but the fact that it costs over 200k is an irony . The weak economy and increasing inflation are main responsible elements for that. Company should also go for more localization to keep the cost at minimum levels. The Suzuki GD110 is officially available on installments from Pak Suzuki and installments being as low as 6,100 per month.
Do let us know what you think about this motorcycle.