Suzuki GS150SE or Yamaha YB125Z DX
Before we begin with the discussion of Suzuki GS150SE or Yamaha YB125Z DX and which motorcycle you will prefer to buy, I know that this is not going to be an apple to apple comparison but since these two motorcycle have many things in common and very less price gap, people often get confused while making their buying decision. We will compare them on basis of power, ride comfort, economy, maintenance and value for money.
Power:
Suzuki GS150SE comes with a 12 hp motor mated with a 5 speed gear box. This is probably one of the most powerful locally produced engine. The motorcycle has some good torque figures and comes with a CV style carb. On the other hand Yamaha comes with a 10.5 hp motor and a 5 speed gear box. Yamaha also comes with a CV style carb but has less torque as compared to Suzuki. Though Yamaha engine is more refined and smooth due to balancer shaft.
Ride Comfort:
Looks are the main criteria of getting a bike in Pakistan, how ever the Suzuki and Yamaha both have retro looks. The real question is ride comfort. Both motorcycles have decent and adjustable suspension but Suzuki has a very uncomfortable seat design which makes it very uncomfortable to do long screeches. Yamaha how ever has a much wider and cushioned seat which makes the journeys easy and enjoyable.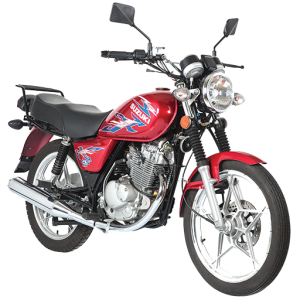 Economy:
As both of these motorcycles come with OHC (Over head Cam Shaft Technology) and CV Carbs but different engine capacities, the fuel economy is very interesting. Suzuki comfortably returns around 38 to 40 and even higher depending upon the riding style of the rider where as Yamaha can easily do up to 48/50 kmpl.
Maintenance:
Suzuki and Yamaha both are very similar in many aspects, the maintenance is easy in bigger cities than small towns but now with the ease of internet, the parts can be sourced online and if your mechanic can think, he can fix any if these motorcycles easily. The parts prices are on the higher side for Suzuki.
Value for Money:
Normally people think bigger the better, in this regard a 150cc will always win over the 125cc but that's not the case. Motorcycle riders now look for many things, in this comparison the Suzuki may seem like a better option but it lacks some features and has serious quality issues. Yamaha is also not that great and has some quality shortcomings.
But keeping in view the resale value, price of spare parts and maintenance its safe to say that getting a Yamaha YB125Z DX for your daily commutes will be a much better choice rather than Suzuki GS150. Yamaha is also cheaper as compared to Suzuki so you will also save some good bucks.
Do let us know what you think of this comparison.