Bella 100cc Scooter by Road Prince
Road Prince motorcycles is a local motorcycle manufacturer and assembler from Pakistan. They have been manufacturing and selling regular 70 and 125 cc motorcycles in the past. Road Prince motorcycles also brought 150 and 250cc motorcycles from Zongshen in Pakistan under brand name Wego and RX3. Recently they have launched a 100cc Scooter called Bella. Lets have a look on Bella and its offerings.
Bella scooter launch in Pakistan
In the recent years, motorcycle scene has started to evolve a little bit in Pakistan. Many female riders are now using motorcycles and scooties for their daily commutes to office and other duties. Observing this increasing market, Road Prince Motorcycles have launched Bella, which is a 100cc automatic scooter.
You may also like to read: https://horsepower.com.pk/suzuki-gs125q-top-speed-in-pakistan/
Bella Scooter Styling and Looks
Bella looks are highly inspired by the modern Vespa scooter. The Vespa has an iconic look and legacy behind it which is still admired. Bella is manufactured to look similar as Vespa Scooter. Also Bella is intended towards female riders, thats why it has cute looks and it will be available in rainbow colors as well.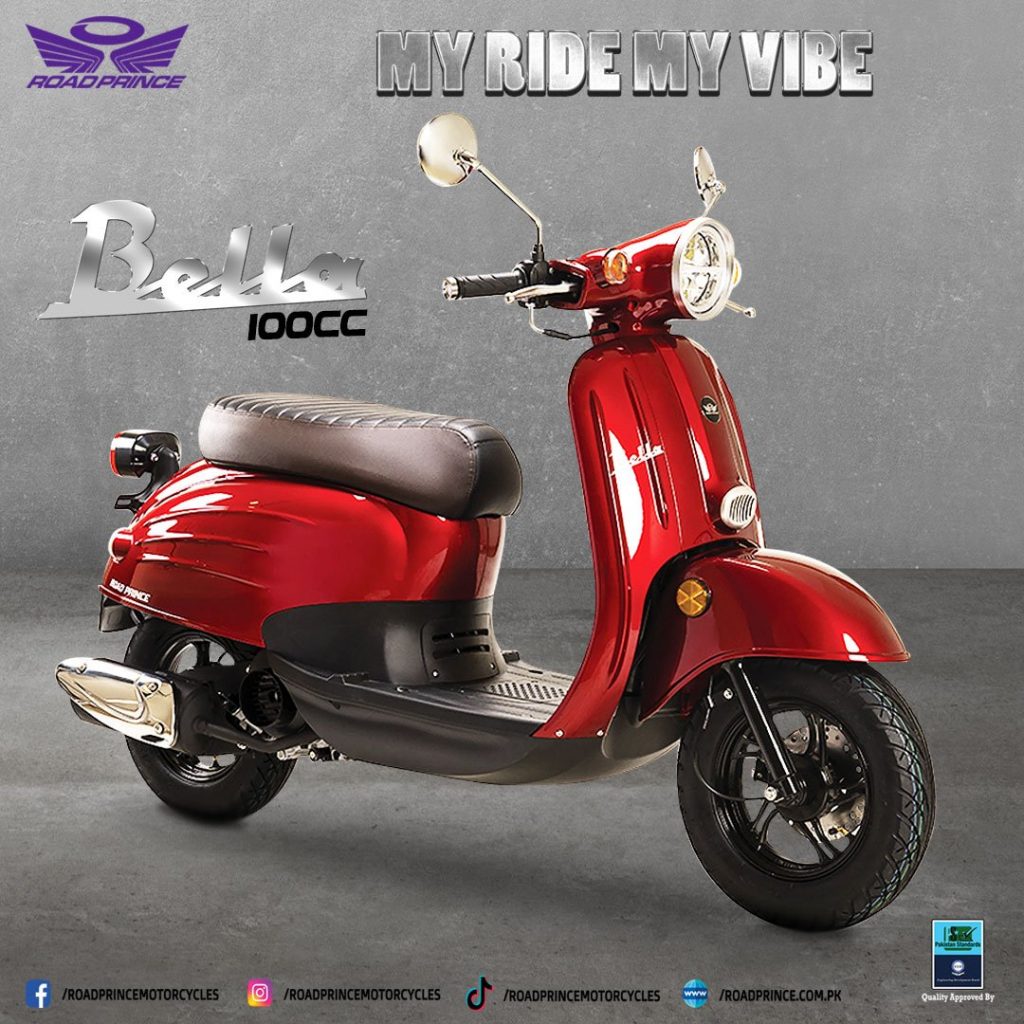 Bella Scooter Engine specs and performance
The Bella 100cc scooter is powered by a single cylinder wheel mounted automatic engine. This 4stroke engine is a carb based unit and it is tuned to have extended fuel average. The 100cc unit is only used to maximize fuel efficiency. The transmission on Bella scooter is a CVT Automatic unit which ensures ride comfortability. Bella scooter has 10 inch alloy wheels and disc set up at front. On front it has telescopic forks while on back it has mono shock suspension.
Bella Scooter Price
Bella scooter is launched to target a specific niche of customers, female riders and company will be charging premium for it. That means its price will be much higher than regular 100cc motorcycle. Road Prince has not revealed the price of Bella 100cc Scooter publicly but it is going to be 245,500 rupees. They really need to focus on marketing and pitching it to right audience with affordable installment plans.