Road King Motorcycle launches Electric Bikes in Pakistan
Road King Motorcycles, an other local manufacturer of 2 and 3 wheelers in Pakistan has launched their E-Bikes in a ceremony at Governor Punjab House in Lahore today. The Governor inaugurated the ceremony and appreciated the initiative of company.

Pakistan is now moving towards E-Bikes which is a very good thing but the issue is that the E-Bikes currently available are not value for money and they're low on technology as well. Still its a good gesture and we have a long way to go.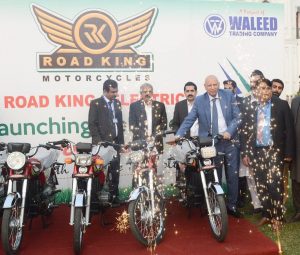 Company has not revealed any info on the specs and prices of these bikes yet but the shape is same old Honda CD70 which is both good and bad at the same time. Lets hope for the best!