Big Issues in Suzuki GSX125
Suzuki has recently launched its new and sporty GSX125. The all-new GSX125 is now available across showrooms in Pakistan. Motorcycle enthusiasts have mixed opinions about the new machine. Everyone likes the way it looks but still, there are some big issues with Suzuki GSX125. If you are planning to buy Suzuki GSX125, You must consider these issues.
No Kick Starter in Suzuki GSX125:
Well, it's more of a complaint rather than an issue, Suzuki GSX125 does not come with a Kick Starter at all. The only way to start this motorcycle is a self-starter. In Pakistan, we do not have access to very good quality motorcycle batteries. Also in winter, Pakistan faces an extreme climate. A cold start can be an issue for most GSX125 users.
You may also like to read: 0% Markup Honda Motorcycles
Half Chain Cover in Suzuki GSX125:
GSX125 has half chain cover which comes as standard. Globally Chain covers are half as it is easy to clean, lube, and maintain the chain. The environment of Pakistan is harsh and does not allow a half-chain cover. Motorcycle chain wears out more quickly this way so a fully enclosed chain cover is required here. Suzuki should have developed a fully enclosed chain cover for their motorcycle here in Pakistan.
Super Expensive Spare Parts:
As always the biggest issue with Suzuki motorcycles is their super expensive spare parts. Suzuki bikes (imported variants) have very good quality but their parts are so expensive that one can get a running used Chinese 70cc in that range. This means that Suzuki needs to localize its spare parts and get the running items affordable so more people can get benefit from it.
No Engine Balancer: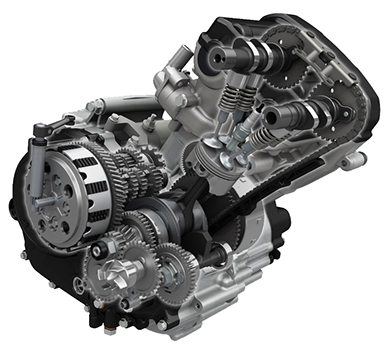 Suzuki engines are smooth but when you add an engine balancer to them they get even smoother. Suzuki GSX125 does not have an engine balancer which is a big issue. At such a high price point it should have an engine balancer shaft in it. Though there is no such source that confirms it does not have an engine balancer, there is also no one denying that it does. As per some users, it has vibrations in it. If that's the case, GSX125 users will feel a rough ride.
Suzuki GSX125 Buy or not To Buy?
Well, the issues explained above are a turn-off because GSX125 is an expensive motorcycle for Pakistan. At this price point, we were hoping to get the best specs but that does not mean this Suzuki GSX125 is all bad. There are many good features to it as well. Only time will tell how it performs.